Akhras: I will not break my strike until I gain my freedom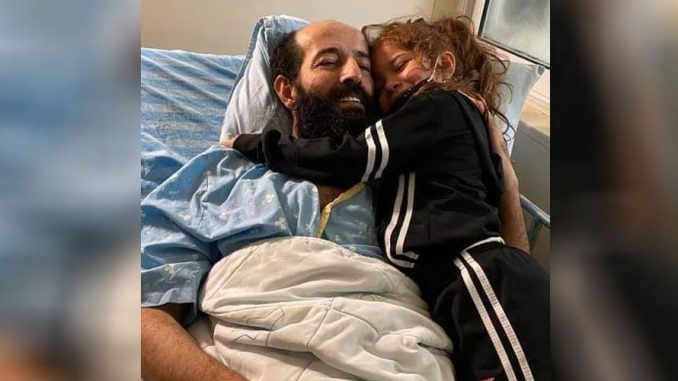 Prisoner Maher Al-Akhras affirmed on Sunday evening his determination to continue his battle despite his deteriorating health until gaining his freedom and his return to his family in Silat al-Dhahr town, south of Jenin.
Akhras, who has been on strike for 91 days, saluted from his place of detention in the Israeli Kaplan hospital all those who declared solidarity with him in the homeland and the world at large.
His mother and family were allowed to visit him on Sunday for the first time since his arrest and the announcement of his open hunger strike. He told Al-Quds newspaper, "My health condition is dangerous but my morals are high. I will not break my strike under the occupation decisions and threats … either my freedom or martyrdom."
Akhras expressed his happiness that his mother, wife and children entered his room and hugged him after being held for two days before allowing them entry into his room.
He said, "I derive my will from our Palestinian people, and from the families of prisoners and martyrs because we forcibly take our freedom from the occupation and it will not break or defeat us. The stances of our people everywhere with me are the best proof of that."
"At all stages, our people gave me morale. Thanks to all of our people for standing with me because this issue is not my case but rather the issue of every Palestinian who rejects humiliation, insult and occupation", Akhras added.
Akhras, who was speaking with high spirits and his voice showed the extent of his pain and fatigue, concluded his talk by thanking and greeting the Palestinian people, the media and everyone who supported him. He also lauded all the free people of the world who confirmed their standing on the side of truth, justice and freedom.
Source: Palestine Responds