Arab League censures Brazil's decision to open trade office in occupied al-Quds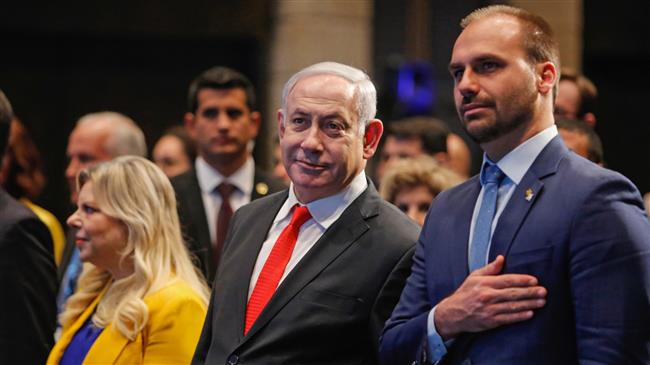 The Arab League has condemned Brazil for opening a trade office in the occupied Jerusalem al-Quds, stating that the move will "seriously damage" the South American country's political and economic interests in the Arab world.
The pan-Arab organization criticized Brazil's move as a violation of international law and voiced its continued support for the Palestinian cause plus the legal status of Jerusalem al-Quds at an emergency meeting convened in the Egyptian Cairo on Thursday.
"This unilateral and unlawful action" is a bias toward Israel and supports Israel's "illegal policies aimed at controlling the occupied East al-Quds (Jerusalem)," the Arab League said.
It further noted that such a "negative change in Brazilian foreign policy toward Palestinians would seriously damage Arab-Brazilian shared political, economic and diplomatic interests."
It expressed "deep regret" that the Brazilian government had reversed its decades-long Mideast policy.
Meanwhile, Kuwait's representative, Ambassador Ahmed al-Bakr, expressed his country's "complete rejection of any act of prejudice toward the legal status of" Jerusalem al-Quds.
He added that Brazil's opening of a technical office in the city constitutes a "clear and obvious violation of international resolutions."
Algeria also warned that Brazil's step would inflame tensions in the Middle East region, and undermine efforts for the resolution of the Israeli-Palestinian conflict. It urged the Brazilian government to reevaluate its decision.
On Sunday, Brazil opened a trade office in Jerusalem al-Quds and announced its intention to relocate its embassy in the occupied territories from Tel Aviv to the disputed holy city next year.
Israel captured East Jerusalem al-Quds in the 1967 Middle East war, and annexed it afterward, claiming it part of its indivisible capital. This is while Palestinians view East Jerusalem al-Quds as the capital of their future independent state.
Earlier this month, the Palestinian Ministry of Foreign Affairs and Expatriates summoned the Brazilian representative to Palestine to express its outrage over a visit by a Brazilian legislator to a settlement in the central part of the occupied West Bank.
Palestinian Deputy Foreign Minister for Latin American and Caribbean Affairs Hanan Jarrar stated that Francisco Mauro Brasil de Holanda was called in on December 5 over the visit of Eduardo Bolsonaro, a parliamentarian and a son of Brazilian President Jair Bolsonaro, to Psagot settlement.
Jarrar stated that Israeli settlements built on occupied Palestinian territories are illegal and illegitimate, and that Bolsonaro's visit constitutes a blatant violation of international law and as well as the relevant United Nations Security Council resolutions.
More than 600,000 Israelis live in over 230 settlements built since the 1967 Israeli occupation of the Palestinian territories of the West Bank and East Jerusalem al-Quds.
On November 1 last year, Bolsonaro announced his intention to relocate the Brazilian Embassy from Tel Aviv to Jerusalem al-Quds. The move will make his Latin American country the third after the United States and Guatemala made the controversial switch.