HSBC accused of 'appalling moral cowardice' over blocked Palestinian aid payments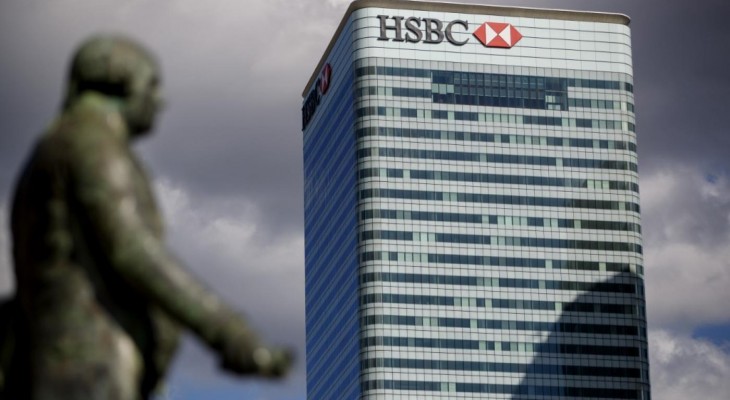 British bank HSBC has been drawn into a bruising political row amid mounting anger and concern over its decision to stop processing standing order payments to the Palestinian aid charity Interpal from next month.
Members of Parliament from both opposition parties and the governing Conservative Party joined forces in a chorus of condemnation of HSBC, with one senior Tory MP accusing the bank of "appalling moral cowardice".
Andrew Slaughter, an MP for the main opposition Labour Party and a former shadow justice minister, dispatched a letter to the chief executive of HSBC, Ian Stuart, demanding an explanation for HSBC's decision.
Slaughter told Middle East Eye: "There can be no excuse for HSBC arbitrarily cancelling customers' standing orders without explanation. This is insulting to Interpal and its donors, and more importantly, it threatens essential aid to Palestinian communities at a very difficult and dangerous time."
Wayne David, Labour's shadow minister for the Middle East, described the decision by HSBC as "appalling".
He added: "Not only is it insensitive to make this decision during Ramadan, the decision flies in the face of the objective assessment which has been made by the British Charity Commission. This is a charity which exists to help some of the most disadvantaged people in the Middle East."
Ed Davey, acting leader of the Liberal Democrats, told MEE: "Making charitable donations is an incredibly important part of Ramadan for Muslims. Particularly in a year when Ramadan has been so heavily affected by the lockdown, this decision by HSBC is deeply troubling for many people - both here in the UK and in Palestine.
"HSBC must explain their decision to stop transactions - particularly after the Charity Commission had investigated this charitable organisation."
'Shame on HSBC'
Condemnation of HSBC's decision did not come only from the opposition benches.
"This action by HSBC... is a decision of such appalling moral cowardice, that it should shame the decision-makers and end any pretence that HSBC might claim to wider integrity and ethics," Crispin Blunt, a Conservative MP and former chair of parliament's influential foreign affairs select committee, told MEE.
"They have offered no explanation for the action. Shame on HSBC."
The UK Treasury did not respond to a request for comment.
A spokesperson from the Charity Commission told Middle East Eye: "Decisions such as this are for the individual financial institution. We are aware of the decision and already in contact with the charity's trustees."
The political storm erupted amid mounting concern that a charity could be undermined through the banking system even while operating completely legally within the UK.
Founded 25 years ago, Interpal is described on the Charity Commission's website as "one of the leading British charities focusing on providing relief and development aid to Palestinians" in the West Bank, Gaza, and in refugee camps in Lebanon and Jordan.
Abu Yusuf, Interpal's founder, told MEE that HSBC's actions would "deny little children from access to necessities".
He said: "We are astonished by such a decision that will create another crisis for the people of Gaza and Palestinians in the West Bank and also in Lebanon who are being denied their rights.
"We are supposed to be living in a country of legal rights and freedom. Interpal has always been a bona fide charity. HSBC are ignoring the rights of their customers to be consulted on this issue. It is shameful."
Individuals who claim to have received the letters from HSBC have posted on Facebook to criticise the bank's decision. One person said they would close their account. Another said he intended to stop banking with HSBC after learning his standing order donation to a Palestinian orphan would be stopped after more than 14 years.
'Tools of US foreign policy'
HSBC has not commented on its reasons for blocking payments to Interpal.
But Chris Doyle, director of the Council for Arab-British Understanding, told MEE that he believed its action may have been taken as a consequence of pressure exerted from the US, where the bank has extensive business interests and has previously been heavily fined for failing to comply with money-laundering regulations.
Doyle said: "International banks like HSBC have effectively become tools of US foreign policy especially in the Middle East. As a result of US pressure, Syrians, Palestinians, Lebanese and Iranians in the UK have had accounts closed down, not because they have done anything wrong but purely because they come from those countries.
"The British government does nothing to stop this US bullying. The campaign against Interpal is just another example of an organised mud-throwing exercise that relies on smears not facts. It is all part of shrinking the space for human rights groups and aid agencies for legitimate criticism of illegal Israeli actions and war crimes."
Terence English, a retired heart surgeon who has visited Gaza regularly over the past two decades to work on medical projects and train local doctors, told MEE that he had grown to appreciate Interpal's "excellent work" in providing education and healthcare services in Gaza.
"For one of our great banks like HSBC to behave in this way towards an important charity will result in inhibiting its fundraising capacity, and thereby diminish its ability to deal with the serious humanitarian crisis that faces Gaza and will be a lasting stain on the reputation of our country," English said.
A spokesperson for HSBC told Middle East Eye earlier this week: "As part of a global bank, sometimes we may decide to prevent certain transactions, even if they are allowed under local laws. We recognise that some people may be disappointed with this decision, and we're sorry for any inconvenience it may cause."
Source: Middle East Eye