IOF detains 12 Palestinians in West Bank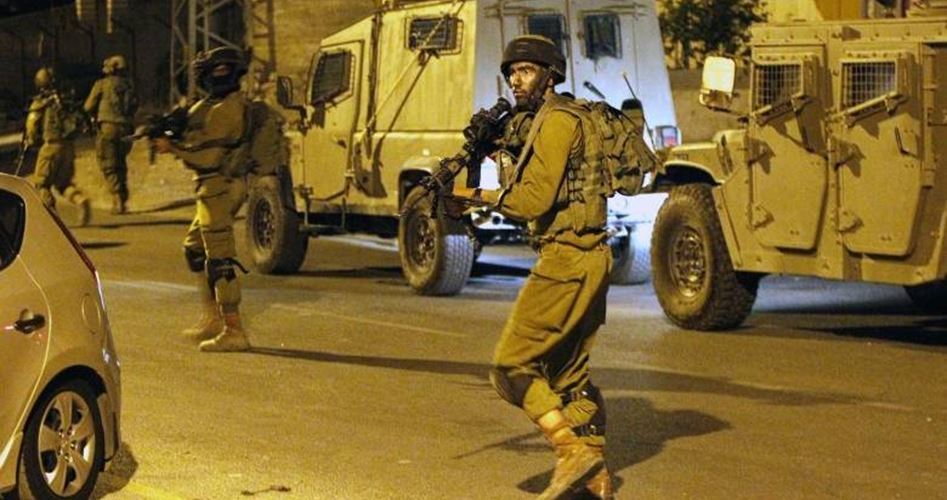 Israeli occupation forces (IOF) on Monday night and at dawn Tuesday arrested several citizens and raided various areas of the West Bank.
In Nablus, IOF stormed the city and arrested Omar Shalhoub after breaking into his family's home on Asira Ash Shamaliah Street.
IOF soldiers delivered to Suhaib Al-Kharraz a summons for interrogation at the occupation intelligence after raiding his family's house.
In Qalqilya, IOF soldiers broke into Azzun town, raided several homes and handed over summonses to citizens for interrogation at the Israeli intelligence.
In Ramallah, a special unit of the occupation army known as "Mistaravim" fired bullets randomly and arrested Hamza al-Khatib in front of his house in Bil'in village, west of Ramallah.
The IOF soldiers also arrested Ahmad Al-Abed Hamadeh and Jihad Abdo after raiding and searching their homes in Ramallah.
In al-Khalil, IOF arrested four citizens. The ex-prisoner, Salim Rajoub, was also arrested after storming and searching his house in Dura, south of the city.
On Monday night, local sources reported that IOF stopped the vehicle in which Fares Hashash was traveling before arresting him and taking him to Hawara military camp near the checkpoint, south of Nablus.
The IOF soldiers arrested Ahmed Abu Kharj, from Jenin, while he was working in Umm al-Fahm city in the 1948 occupied lands.
IOF also arrested a young man while he was on his land in the northern Jordan Valley.
Source: The Palestinian Information Center