IOF raids homes, kidnaps several Palestinians in W. Bank and J'lem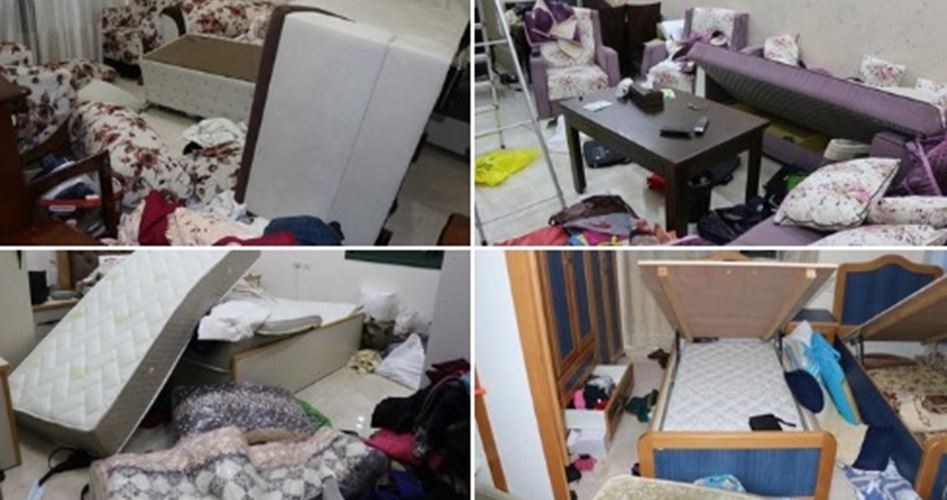 The Israeli occupation forces (IOF) last night and at dawn Monday ransacked homes, kidnaped Palestinian citizens and assaulted a journalist during campaigns in the West Bank and Jerusalem.
According to local sources, the IOF broke into and ransacked the house of journalist Mohamed Mona (ex-detainee) in Zawata town in Nablus, assaulted him and his family, and interrogated him about his work.
Mona, who works for Snd News Agency, said that Israeli soldiers broke open his house's door, wreaked havoc on the furniture during their search, and physically assaulted him, his pregnant wife and his children, Hamza (9 years) and Abdul-Rahman (5 years).
He added that the soldiers rampaged through the house before an officer questioned him about his media work and his coverage of recent events in the West Bank.
The IOF also raided and ransacked the house of Atiya Mousa, the father of prisoner Omar Mousa, in Zawata town, as well as the homes of his two sons, and confiscated a sum of money from the house of his son, Ahmed.
In Tulkarem, the IOF stormed the city and Anabta town and kidnaped two young men from their homes. They were identified as Ihab Dariya and Ahmed Shahada.
The IOF also raided homes in Azzun town in Qalqilya, Bireh City and al-Jalazon refugee camp in northern Ramallah and kidnaped three citizens from their homes.
In al-Khalil, the IOF kidnaped a citizen called Anas al-Marwani during his presence near the Ibrahimi Mosque in the Old City.
The IOF also raided several homes in Idhna town, west of al-Khalil, and a workshop belonging to a citizen from the family of ash-Sharbati in al-Khalil City.
In Jerusalem, four young men were taken prisoners during police raids on homes in Beit Hanina. They were identified as Salama Ghaith, Ahmed Ghaith, Bahjat Masoud and Kareem Abu Taa'ah.
Another young man called Adham al-Yasini was kidnaped by an Israeli undercover unit from Shuafat refugee camp in east Jerusalem.
Police forces also raided different homes overnight in different areas of Jerusalem, with no reported arrests.
In a separate incident, a Palestinian driver called Yousef Dawabsheh miraculously survived a shooting attack at dawn Monday when Jewish settlers opened fire at him as he was driving home to Duma village in southern Nablus. His car sustained material damage.
Source: The Palestinian Information Center