Nephew of top Palestinian official shot dead by Israeli soldiers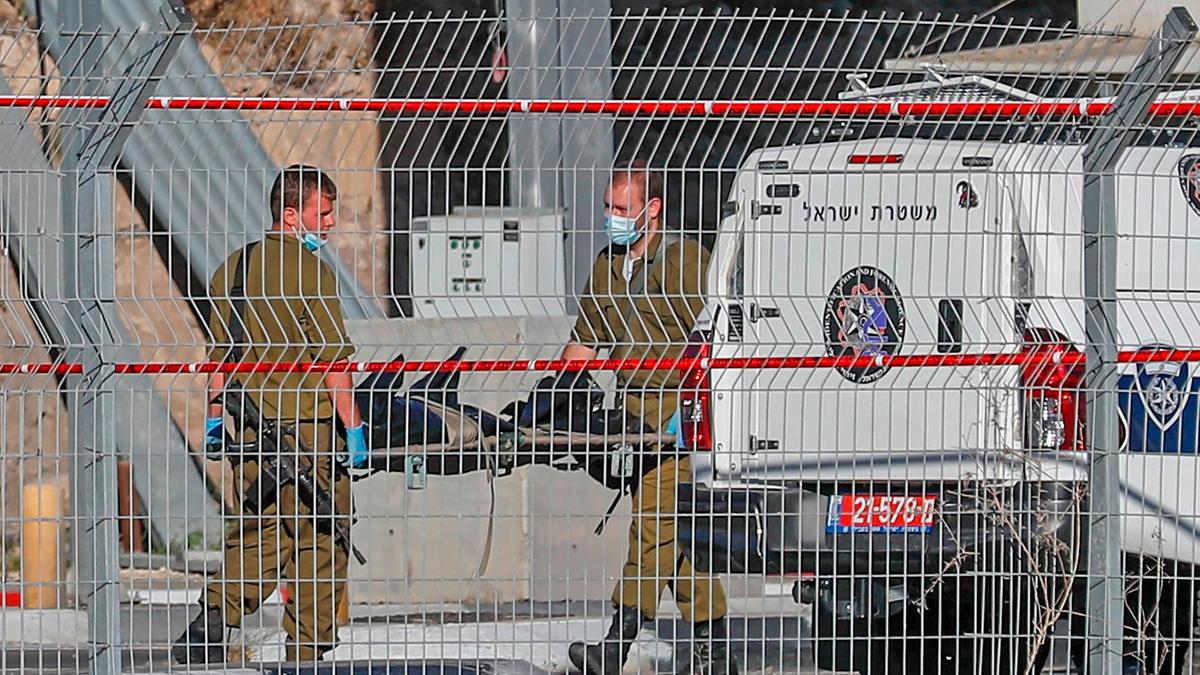 The nephew of senior Palestinian official Saeb Erekat was shot dead by Israeli officers on Tuesday at a checkpoint near Abu Dis in the occupied West Bank.
Mr Erekat, secretary general of the Palestine Liberation Organisation, said Ahmad Erekat, 27, was "murdered in cold blood".
His family said he was killed while on his way to a beauty salon to pick up his sister, who was preparing for her wedding scheduled for later in the day.
"Tonight was his sister's wedding, his was next month," said Noura Erekat, a cousin of Ahmad and a human rights lawyer.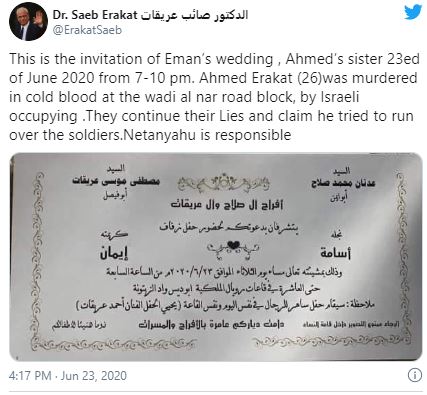 In a tweet, Mr Erekat said he holds Israeli Prime Minister Benjamin Netanyahu responsible for Ahmad's death.
Israeli authorities have described the incident as a terrorist attack and claimed the young man was driving towards officers at speed.
Mr Erekat dismissed the police claims as "impossible", saying Ahmad was due to be married shortly.
The Erekat family also rejected the allegations and called on Israeli authorities to release security footage.
"The only terrorists are the cowards who shot to kill a beautiful young man and blamed him for it," Noura Erakat said.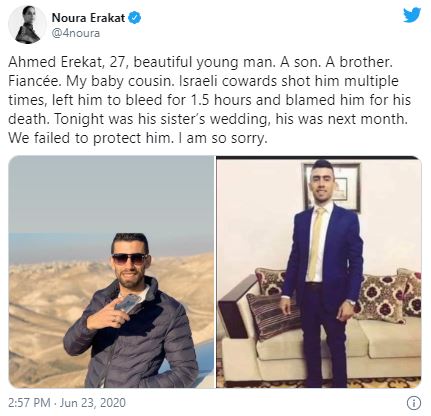 Later in Abu Dis, Palestinians threw stones at soldiers who responded by using tear gas and sponge-tipped ammunition, AFP reported.
There were no immediate reports of injuries.
"Israel must be held accountable for its kill first, justify policy later," senior PLO official Hanan Ashrawi said.
Ms Ashrawi called on the international community to take "concrete steps" against Israel over the death of Ahmad.
"Palestinian lives matter," she said, recalling last month's police killing of an autistic man in Jerusalem.
"It is time for the world to hold Israel to account and ensure that justice is done by Palestinian victims."
Tuesday's incident came nearly a month after a Palestinian man was killed in similar circumstances near the occupied West Bank city of Ramallah.
He was shot dead on May 29 after police said he tried to drive a car into Israeli soldiers, none of whom were injured.
The incident comes amid heightened tensions as Mr Netanyahu plans to press ahead with the annexation of up to 30 per cent of the occupied West Bank and the strategically important Jordan Valley.
The Netanyahu government has pledged to start annexing territory from July 1, as part of the broader US peace plan.
Palestinian and Arab officials have warned that such a move would effectively extinguish any hopes of a two-state solution to the conflict.
The proposal has also sparked widespread international criticism and warnings that it would lead to renewed violence.
Almost all of the international community considers Israel's West Bank settlements illegal under international law.
UN Secretary General Antonio Guterres said such a unilateral move would "undermine" the two-state solution.
"Annexation would be not only against international law, but it would be a major factor to destabilise the region," Mr Guterres said on Tuesday.
"I hope this voice of reason that is not only mine, it is echoing across the world, will be heard by the Israeli authorities and that the annexation does not take place on the first of July."
Source: The National