Settlers prepare to control Ein al-Hilweh spring in Jordan Valley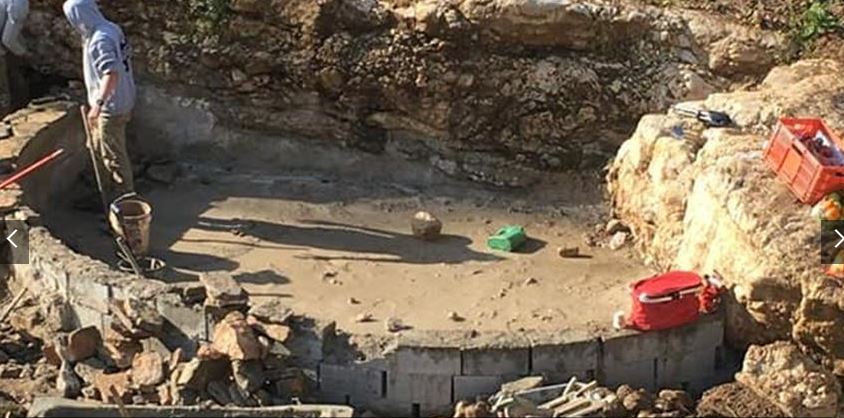 Abdullah Dhababat is watching with a broken heart groups of Jewish settlers as they are actively engaged in the restoration work of the Ein al-Hilweh spring in the northern Jordan Valley. He is fully aware that this means in practical terms that there is a plan to seize it.
Dhababat, as well as many cattle herders in the area, used to provide water for his herd of cows from this spring but the settlers, who harass them constantly in the Jordan Valley, prevented them from using it.
He says that this is a dangerous sign, adding "Preventing us from providing water for our livestock means that the spring has entered the stage of actual confiscation."
Aref Daraghmeh, a human rights activist in the Jordan Valley, confirms that what is happening in the Ein al-Hilweh is an actual plan to seize it and as a human rights lawyer, he is monitoring the settlers plans. Apparently the settlers are embarking on the final touches of completely controlling the spring, he added.
Daraghmeh noted that these construction works may seem that it is a restoration of an old spring of water but this is a prelude to confiscation. "All indications lead to that, as the Israeli occupation will not leave a natural source of water without controlling it completely", he underlined.
Farmer Munther Bisharat says that the settlers bring their families to the spring and expel any Palestinian approaching it while soldiers of the Israeli occupation forces protect the settlers.
Mahdi Daraghmeh, head of the al-Maleh Village Council and Bedouin Mudarabah, considers that the plan to seize the area is an old-new plan, as settlers have fenced dozens of dunums east of Ein Al-Hilweh in the Bayyoud and Umm Kharrouba areas.
Ein al-Hilweh is located in the Wadi al-Malih area and is characterized by its warm climate and abundance of water. This made it one of the most desirable agricultural and pastoral areas for many farmers in Tubas.
Daraghmeh points out that the strategy of controlling water sources is one of the main means of pressure towards displacing citizens. When water sources are cut off, families are forced to leave the area and this is what the occupation wants.
He also warns that the occupation's act of targeting water sources and pastures in the Jordan Valley has greatly reduced the number of livestock and the animal wealth in Palestine.
Daraghmeh explains that Wadi Al-Maleh includes five Bedouin communities: Khirbet Al-Farisiyah, Ein al-Heilweh, Hammamat Al-Maleh, Khirbet Samra, and Khirbet Al-Hama.
These communities have become increasingly threatened as of late. The Wadi Al-Maleh is inhabited by more than 460 families, approximately 3,000 people, of whom 43 families are in Ein al-Hilweh, Daraghmeh adds.
Source: The Palestinian Information Center